Case Study 001: Osbourne Court
Completion December 2018
This was a turnkey CDM project to remove an existing obsolete passenger lift from an existing lift shaft in an occupied building for Sure Group a facilities management company on behalf of We are Torus a housing association.
Sure Group are a well-respected and establish provider of Facilities Maintenance services, with an outstanding reputation for risk management, promoting equality of opportunity and delivering high levels of service, who worked on behalf of Torus Group on this project.
Torus Group are a group of individual social landlords, Golden Gates Housing Trust, Helena Partnerships and Liverpool Mutual Homes with a common purpose to drive to empower the people living in their homes, unlocking potential and providing life changing opportunities. They are committed to creating sustainable, stable, thriving communities through support, investment, development and regeneration and at Allied we are proud to be a part of this growth. Torus Groups key heartlands are Liverpool, Warrington and St Helens and further afield across the North West.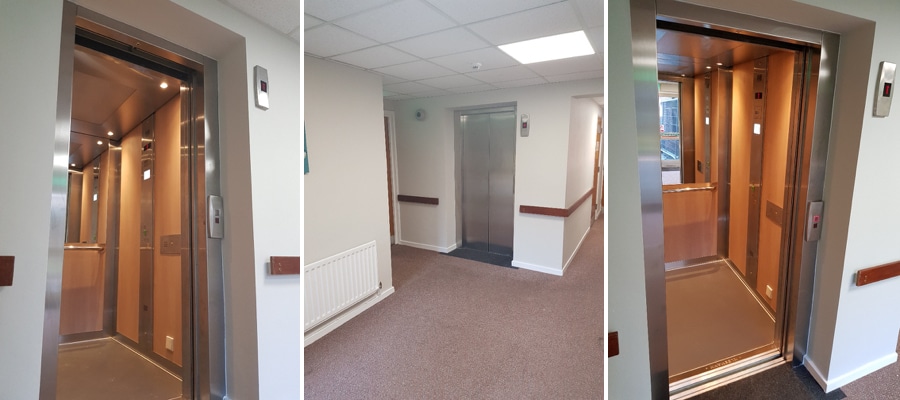 We acted as the main contractor and responsible for all works inclusive of builders, electrical, decorates and ensuring safe working procedures.
To enable access of those with disability, we installed temporary stairlifts to access all floors during the works. We removed the existing passenger lift, opened up the landing structural lift openings and installed a modern energy saving passenger hydraulic lift with i-valve control system complete, made good all works and matched decorative areas.
To enable the lift to be put in service we fully tested the lift including load testing and CE marked the lift for public use.
The client was provided all lift service and maintenance manuals for their records.
The challengers of the project where the short delivery and installation times required by the customer which was completed on time.